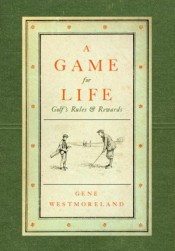 Think you know the rules of golf? Match your knowledge with the guy who wrote the book....literally! Gene Westmoreland will speak at the Harrison (NY) Public Library Wednesday, May 22, at 7 PM about his latest book,
A Game For Life
.
I read the book...loved it...and
reviewed it here
.
Now you can hear Gene talk about his many experiences as an active member of several USGA Championship Committees, serving as co-chairman of the 2004 U.S. Amateur and the 2006 U.S. Open. He also served as the Metropolitan Golf Association's Tournament Director for many years. I don't know anyone with a deeper, more intimate knowledge of not only the rules of the game but how to enjoy it throughout your life--just as he has.
Come with your questions, be prepared to share your golf stories, and expect to have a great time chatting with an all-around good guy.
Admission is free at the
Harrison Public Library
, 2 Bruce Avenue, Harrison, NY. For more information, call (914) 835-0324.
Among many other books, Dave Donelson is the author of
Weird Golf: 18 tales of fantastic, horrific, scientifically impossible, and morally reprehensible golf