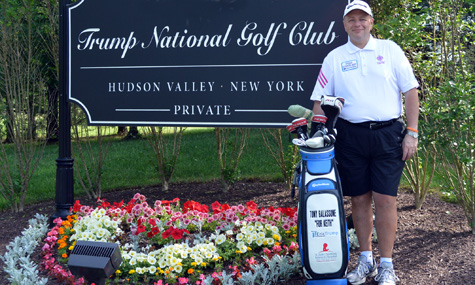 Tony Balassone
What's a big golf day for you? A leisurely 18 holes? A forced march toward 36? Maybe you've even completed a bone-crunching 54 holes in a state of golf hysteria. Fuggedaboutit! You're a piker compared to Tony Balassone, who cranked out a record 451 holes in one day at
Trump National Golf Club, Hudson Valley
on June 23. Tony wasn't just feeding his golf habit, though. He was playing to benefit the
Eric Trump Foundation for St. Jude
. His real triumph? He raised $25,000 (and still counting) for the cause.
Balassone, co-owner of
Calico Restaurant and Patisserie in Rhinebeck
, and his wife, Leslie, raise money each year on behalf of a different charity. Last year, Tony raised more than $20K for Multiple Sclerosis in memory of his uncle by playing over 90 holes of golf (on foot) at Trump National, walking nearly 26 miles in the process. Tony was so grateful to the Trump family and Brian Freeswick, General Manager of the club, for donating the course last year that he and Leslie identified The Eric Trump Foundation to be their 2014 beneficiary.
Electing to use a golf cart this year, Tony set his personal goal at 400 (+) golf holes. At 6:25 AM, Tony teed off at hole number 1 and successfully completed 451 holes in 12 hours, taking 1,909 shots and making 48 birdies. Don't bother to take your socks off to do the math with your fingers and toes: that's just over 25 18-hole rounds at an average score of 76.
Longtime Hopewell Junction resident, Dan Scavino, an ETF Board Member and Director of the Joe Torre Foundation, was on hand to support Tony Balassone and witness his efforts on behalf of the children. Scavino also promoted Tony's incredible feat via social media and with local radio personality "Woodman," on K104.
A celebratory dinner & auction in honor of Tony Balassone will be held at Trump National Golf Club, Hudson Valley, on July 15, 2014, 6:00PM. Tickets are $125/each and may be purchased via Erin Murray,
emurray@trumpnational.com
, no later than Friday, July 11, 2014.
Since 2006, Eric Trump, son of Donald J. Trump, and his foundation have donated and pledged over $28 million dollars to St Jude's Children's Research Hospital. If you would like to donate to The Eric Trump Foundation for St. Jude on behalf of Tony Balassone or learn more about ETF's mission, visit
www.erictrumpfoundation.com
.
Among many other books, Dave Donelson is the author of
Weird Golf: 18 tales of fantastic, horrific, scientifically impossible, and morally reprehensible golf