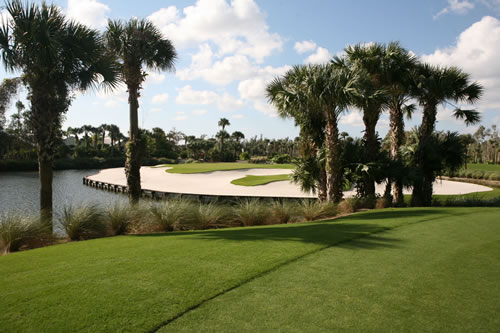 Can your first be your best? Plenty of golfers think
Mayacoo Lakes
is the best golf course Jack Nicklaus ever designed—even though it was his very first. The par 71, 6,906-yard layout is tough but fair, challenging but enjoyable, and definitely a course you could play every day. Kipp Schulties refreshed the course in 2007. Head pro Cary McGaughey says he's worked with three generations of members in some families. Purchase, NY, Old Oaks CC head pro Bobby Heins and his protégé, PGA tour winner Johnson Wagner, can often be found on the course during the winter months.
Thirteen holes feature water and melaleuca, pine, and palm trees line most of the fairways, so shot placement is essential. The greens are perfectly matched to the challenges of each hole, with tiny ones where accuracy provides par protection and larger, more undulating greens to accept shots on longer holes. Six sets of tees allow the course to be played from as short as 4,973.
One of the biggest attractions for golfers at Mayacoo is the variety of challenges faced throughout the course. The first par 5, the fifth hole, is an easy par at 517 yards but a tough birdie if an aggressive approach finds one of the four bunkers surrounding the green. The sixth hole, a 370-yard par four, actually has two greens, both difficult, and both fronted by water and wicked bunkers. The eighth, at 359 yards, is a tough little bunker fest while the ninth hole, a short but fair par five at 505 yards, offers a birdie to those brave enough to challenge the water on the right front of the green.
Before you begin the back nine, sharpen up your aiming skills and make sure your driver is on board with your game plan. You'll need both when you get to the eleventh (371 yards) and twelfth (386 yards) holes, both of which play over water off the tee, one tougher than the other depending on the wind. The fifteenth hole, a 422-yard par four, calls for two good shots to get your ball on the elevated green in regulation. The 333-yard sixteenth hole plays twice over water, which really isn't a problem unless it gets into your head, which happens all too easily. The eighteenth hole makes for a great finish. It plays 402 yards, but the water in front of the green has drowned more than one player's hopes whose match came tied into the hole.
Members at Mayacoo also enjoy a pool, tennis courts, dining and grill room, as well as newly-renovated locker rooms and card rooms for both men and women with picturesque views. It's a family-style club that puts golf front and center.
Among many other books, Dave Donelson is the author of
Weird Golf: 18 tales of fantastic, horrific, scientifically impossible, and morally reprehensible golf