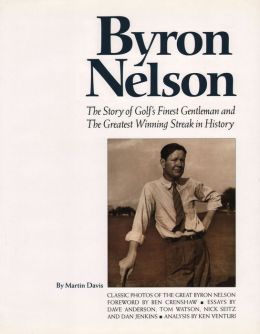 Every student of the game knows that perhaps the greatest achievement in the sport was Byron Nelson's 11-tournament winning streak in 1945. You can justifiably argue about Bobby Jones's Grand Slam, but Nelson's accomplishment that year ranks first if for no other reason than it will never be equaled. Martin Davis wrote and published an excellent account of Nelson's career centered on that spectacular year. It's
Byron Nelson: The Story of Golf's Finest Gentleman and The Greatest Winning Streak in History.
The coffee-table sized volume is lavishly illustrated with classic photos of Nelson and the other greats of the day. It also includes a foreword by Ben Crenshaw and essays by Dave Anderson, Tom Watson, Nick Seitz, and Dan Jenkins. There's also a gatefold with an analysis of the fabulous Nelson swing by Ken Venturi.
What I found especially worthwhile about the book is the emphasis Davis places not just on the streak, but on the entire wonderful season of 1945. Often lost in the accolades of the eleven-tournament stretch is the fact that Nelson actually won 18 of the 30 official PGA Tour events he entered that year--and his worst finish in the other 12 was ninth place! Along the way, Nelson compiled a scoring average of 68.33--a record that stood for more than fifty years.
This may not be the definitive biography of Byron Nelson, but it's a volume that every student of golf history should have in his/her library.
Among many other books, Dave Donelson is the author of
Weird Golf: 18 tales of fantastic, horrific, scientifically impossible, and morally reprehensible golf