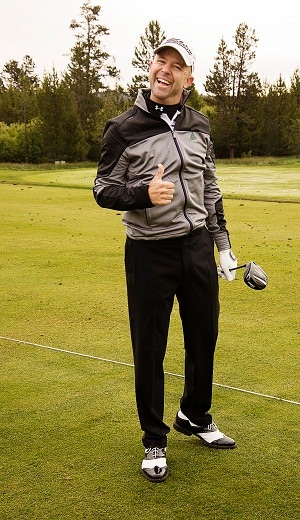 Rob Labritz
photo courtesy of Titleist
Rob Labritz must have worn out several pairs of celebratory dancing shoes this year. His win at the Treiber Memorial Tournament of Champions was the perfect end to the season--and propelled him into the Met PGA Player of the Year honor for the second time in his career.
He also took home the winner's hardware for the Polo Golf Met PGA Head Professional Championship (for the second year in a row) as well as the Metropolitan Professional Championship (also for the second year in a row). Quite a collection of trophies for the 42-year-old upbeat and energetic Director of Golf at GlenArbor Golf Club in Bedford.
Then there was the hail-Mary pitch shot from the fairway that dropped into the last hole of the sudden death playoff at the PGA Professional National Championship and put him into the PGA Championship at Oak Hill. Video of the shot earned "Top Play" honors on ESPN and went viral across the internet, prompting worldwide acclaim for his wedge prowess and many a chuckle over the rather lame high-five that followed.
Labrtiz, of course, is no stranger to championship golf. He also qualified for the PGA Championship in 2002 at Hazeltine and in 2003 at Oak Hill and was the low club pro at Whistling Straits in 2010 where he shared the winner's circle with Martin Kaymer. Locally, his list of titles includes the 2008 and 2011 NY State Open and 2006 NY State PGA among many, many others.
The biggest prize for Labritz this year, though, was Ryan Miller Labritz, a sparkling baby girl born to him and his wife Kerry on August 14, just three days after the PGA Championship. That, my friends, is a trophy that will shine in his life forever.
Among many other books, Dave Donelson is the author of
Weird Golf: 18 tales of fantastic, horrific, scientifically impossible, and morally reprehensible golf