Like many other things in golf (and life), I came to the GPS party rather late. In fact, I was unabashedly a reverse snob when it came to judging yardages by anything other than my own "keen eye" and a sprinkler head or two until I won a Golf Buddy in an event a couple of years ago. Even then, it somehow seemed unsporting to check it, especially on a course I knew. Shot by shot, though, I came to rely on the technology more and more even when I was standing next to a yardage marker. I must admit, having the distance to the front and back of the green was reassuring--as was knowing exactly how far my ball had carried when it landed in that big bunker. Then I left it in a cart after a round and that was that. I thought about getting another one, but never quite got around to it.
Until I got a smartphone. I was real late to that party, too. But things changed and I needed one, so I traded up--now I can text while driving just like the rest of the world. Just kidding! What the smartphone did enable me to do, though, was go back to the GPS party.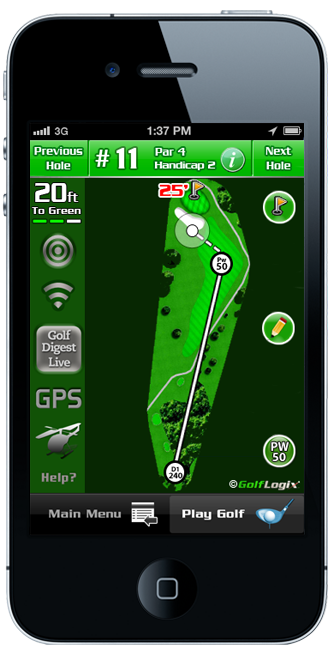 My app of choice?
GolfLogix
. I spent a couple of minutes downloading and setting it up, then put it into play. I used it the first time on a course I know very well so I could check the quality of information on the screen and was very impressed. The course loaded quickly, the maps were helpful, and the accuracy was excellent. I particularly like the target feature, which lets you choose an intermediate point (like the left edge of a fairway bunker) and get the distance to reach it as well as the distance to the green from there. You can do the same for the green. Not sure whether to bomb a driver or lay up with a three wood? Another handy feature allows you to see the landing zones of your clubs right on the map for each hole.
You can also add notes to the holes to create your own caddie book for subsequent rounds--and if you're a real caddie, you can mark the daily pin positions on each hole before the round, then earn an extra large tip by demonstrating pinpoint course knowledge.
There are a whole raft of other features, too, like the ability to track your game shot-by-shot and club-by-club for post-round analysis of your driving distance and accuracy, ball striking (GIR's from the fairway), scrambling, putts, etc. Just in case you don't have enough information, you can also track the duration of the round and even the calories you burn.
Battery life and the hit on your data plan aren't really problems. By using the screen lock feature on my phone after every use, I drained only about a third of the battery in four and a half hours (I turned it on a few minutes before we teed off and played with it awhile afterward--it really was only a four-hour round). I also checked data usage, which was about one MB for the round.
I first tried the free version of the app, but the annual $19.99 Champion membership fee became quite reasonable when I realized I had to click through an ad every time I changed holes. Besides, many of the best features like the club distance grid and touchscreen distance markers, are only available on the paid membership. As of this writing, you can actually make ten bucks by taking advantage of a
Golfsmith Pro Shop
offer that awards GolfLogix Champion members $20 off plus free ground shipping (worth $9.99) on their first order over $75. You can also upgrade to a Golf Digest Live suite of features for an additional $19.99.
GolfLogix is available for Apple and Android phones. There are some 30,000 courses mapped for use
and you can save the ones you play frequently (or just want to remember).
Among many other books, Dave Donelson is the author of
Weird Golf: 18 tales of fantastic, horrific, scientifically impossible, and morally reprehensible golf