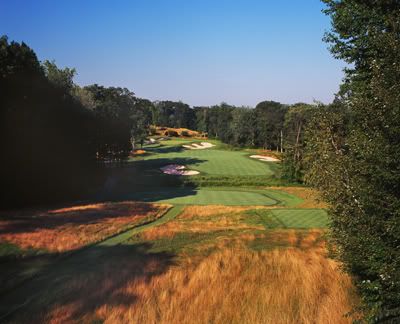 I posted my first local round for 2010 yesterday and had the pleasure of starting my season in the NY area at a real first-class facility,
Manhattan Woods in West Nyack
. This Gary Player design has been one of the most under-reported gems of the New York market. It deserves a lot more recognition.
Hills and wetlands define most of the holes. High fescue is everywhere, too, so accuracy is much more important than length. Fortunately for me, it was still early in the season and the rough hadn't yet grown in. You'll encounter water on four holes and forced carries over environmentally-sensitive waste areas on several others. The bunkering is fiendish but fair.
The greens at Manhattan Woods are good sized and well-contoured. They weren't rolling particularly fast yesterday, but I've played them in mid-summer and can guarantee the speed will make you pay attention. One other important note: the grain here is very pronounced and many times doesn't flow the way you expect, so check it carefully before putting. If the caddie tells you to putt like it's uphill even though it looks like a downhiller, believe him. Short into-the-grain putts cost me at least four strokes. You'd think I'd learn, wouldn't you?
Manhattan Woods plays from 5,090 to over 7,100 yards with five sets of tees. I'm a big believer in playing from the proper tees for your handicap and yesterday's round showed how much that can improve the enjoyment of the game. My friend and colleague Dan Berger and I both hover between 9 and 11 indexes. We were playing with Michael Quaglianno, who turned pro last year. With Michael teeing off from the tips and Dan and I from the blues, we were all typically left with equal distances to the green for our second shots. Rounding out our foursome was club Membership Director Mary Ann Jones, who played from the forward tees and kept up with us very well. That's the mark of a well-laid-out course.
The amenities at Manhattan Woods are exemplary. The practice facility not only has a range with two sets of tees, but a practice bunker and chipping green as well. There are two practice greens, too, so you never feel like you're trying to putt in the crowd at Times Square. Every time I've played there, my caddie knew his stuff, too, which means a lot on a course where strategy is more important than brute strength and knowledge of the greens is just as important as reading the contours. The staff in the pro shop and locker room couldn't be friendlier, either.
One final note about friendliness: We were guests on a busy, holiday Friday (the parking lot was full) but the members who were playing went beyond cordial--there were a lot of them, too, but they seemed truly happy to have us there. And even though the course was full, we never felt rushed or had to wait on another group--another sign of a well-designed and well-run facility.
Manhattan Woods has a lot offer. You'll be hearing a lot more about it this year.
Dave Donelson, author of Heart of Diamonds
a
romantic thriller
about
blood diamonds
in the
Congo.