One of the best surprises I've had in a long time came when I played the
Rye Golf Club
for the first time in about five years. Since I was there last, the venerable municipal course has undergone some major revisions and taken giant leaps forward in conditioning. Now, I'd rank it among the best publicly-owned courses I've seen.
One of the unique features, as head pro Mike Rapisarda never tires of telling people, is that it is the only course in Westchester where you can hit a ball into Long Island Sound. In fact, there are two holes where that dubious feat can be accomplished. One is the 315-yard par four twelfth hole that just begs for a big hitter to drive the green, thereby bringing the sound into play on the left. The other is the tortuous par three seventeenth, seen below at low tide. The green is about the size of a dinner napkin and the wind can easily take your ball out to sea if you're not careful.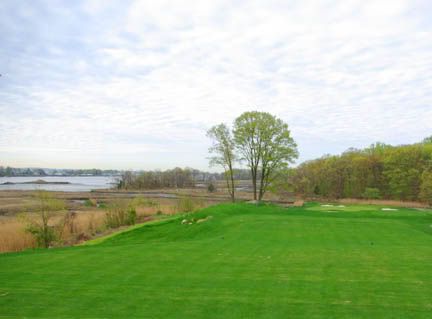 The par 71 track was originally laid out by Devereux Emmet in 1921, but I don't imagine the old boy would recognize it today. The course has been stretched to 6500 yards, every tee and bunker has been rebuilt, the fairways converted to bent grass, and hundreds of trees have been taken down to open more of the course to those wonderful Sound views. All of the work, by the way, has been designed and carried out by Superintendent Chip Lafferty, who came to the course in 2003.
The course is owned by the City of Rye, NY, and is open to members and their guests. I recommend you find a member and beg an invitation.
Dave Donelson, author of Heart of Diamonds
a
romantic thriller
about
blood diamonds
in the
Congo