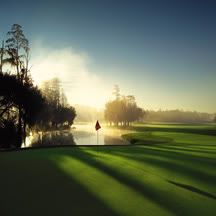 Anyone who says Florida golf is flat and water-bound hasn't played at Innisbrook, home of four fine courses on the Gulf Coast near Tampa. Both the Copperhead, the 7,340-yard (from the tips) home of the PGA Tour's PODS Championship, and the newly-renovated Island Course, with a tight 7,310 yards, have elevation changes as dramatic as any you'll find at your favorite course—-and there's nary a palm tree in sight. Instead, fairways are sharply and picturesquely defined with cedars and pines with plenty of Spanish moss to give them a Carolinas feel.
Both courses, as well as the North and South Highland tracks, have lots of water and sand, though, which keep them honest and make you earn your pars. The Island Course has all new greens and several new tees, the result of a $1.7 million renovation that started the day after resort owner Sheila Johnson closed on her purchase of the property in 2007. With tighter fairways, water on nine holes, and some dramatic doglegs, it's actually a tougher course than the Copperhead, as reflected in the 73.5 rating/140 slope from the back (Green) tees.
The renovation of the Island Course is the first step in Johnson's plans to revitalize the property. The resort's first full-service 12,000-square-foot spa is scheduled to open in 2008 along with a state-of-the-art fitness area. There is no central hotel-style lodging facility at Innisbrook—-you stay in roomy, comfortable low-rise condos scattered around the 900-acre resort—-and a remarkably responsive shuttle takes you anywhere you want to go on the property. There are four restaurants, 11 Har-tru tennis courts, a nature preserve, and six pools, including the water-park-style Loch Ness Pool.
Innisbrook Resort and Golf Club
Tampa
(800) 456-2000
www.innisbrookgolfresort.com
Nearest airport: Tampa (30 minutes)
Golf package: $299 per person per night includes room and breakfast, one round of golf, daily golf clinic, and other amenities.
Dave Donelson, author of Heart of Diamonds
a
romantic thriller
about
blood diamonds
in the
Congo