It's hard to say which is more enjoyable at the Ritz-Carlton Golf Resort at Tiburon in Naples—-the championship-caliber golf courses or the wonderful amenities at the posh hotel. There are two sophisticated Greg Norman-designed courses, both highly playable by golfers at all skill levels, the Rick Smith Golf Academy, and a magnificently-appointed Ritz-Carlton where guests are pampered with premium-class service at every turn as well as goose-down comforters and pillows, Frette linens, marble baths, and Bulgari toiletries in the luxurious rooms.
But golf is why I was there, and it was some of the best I've ever played in the Sunshine State (or anywhere else). The Gold Course is a 7,288-yard gem (from the tips) where they play the Merrill Lynch Shootout during golf's silly season each December. It offers mostly wide, inviting fairways leading to generous greens, but watch out for the sprawling bunker complexes and/or water on every hole.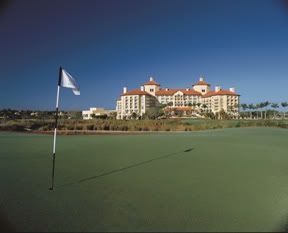 The Black Course at Tiburon may not host a professional golf event, but it's the harder—-and better—-course in my book. At 7,005 yards it's shorter, but the landing areas are considerably tighter. It's also a more scenic course, with many holes framed beautifully by Spanish-moss-draped live oaks and stands of majestic pines. Even the ball-gobbling waste areas are picturesque in a Southern-Gothic kind of way. The number one handicap hole on the Black Course is the second hole, which looks quite tame on the scorecard at a straightaway 436 yards. Step onto the tee box, though, and you'll see why it's rated the hardest hole on the course: your drive has to thread a pine-lined chute the width of a single lane in a bowling alley to find the fairway.
Then there are the accommodations at the Ritz-Carlton. Actually, there are two Ritz properties to choose from in Naples. The beach hotel is a short shuttle from Tiburon so you can catch a few rays on the sand (instead of blasting out of it with a wedge) when you're ready for a break from golf. There's also an expansive, exquisite spa there. The Ritz-Carlton Golf Resort has a small but opulent spa as well, and offers five restaurants, led by the signature dining experience, Lemonía, a Tuscan grill featuring contemporary Italian cuisine in Mediterranean surroundings and an excellent wine list. There's also Sydney's Pub at the golf club house, a more down-to-earth place where you can enjoy a cold one while you settle the day's wagers.
Ritz-Carlton Golf Resort
Naples
239-593-2000
www.tiburongcnaples.com
Nearest airport: Ft. Myers (40 minutes)
Golf package: $949 per night (for two persons double occupancy) includes room and breakfast, and one round of golf for both or two rounds for one golfer.
Dave Donelson, author of Heart of Diamonds
a
romantic thriller
about
blood diamonds
in the
Congo