A downhill lie can be a bugger, especially when you need to hit a delicate approach. It's a common problem where I play most of my golf, in Westchester County, where golf courses are noted for having undulating (or worse) fairways and you almost never have a level lie.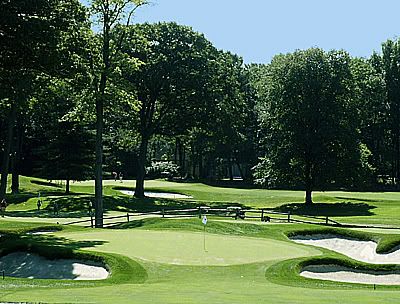 For help, I went to Bobby Heins, long-time head professional at Old Oaks Country Club in Purchase, NY, and long-time star of the Met PGA Secion. Bobby took me out to its fifteenth hole, where the postage-stamp sized green is surrounded by bunkers, which demands a high, soft approach shot. Unfortunately, you have to hit that shot standing downhill.
The key is to not believe everything you read, according to Heins. "Most people have read the books, so they put the ball back in their stance," he said. "That causes the ball to fly low and screws up their distance. Or they play it normal and the instinct is to try and get your balance back. Because the ground is higher behind the ball, they hit fat or they skull it. I see it every day."
The solution? "Play the ball just slightly back of normal, put your weight on the front foot—maybe sixty percent—and elongate the bottom of the swing while turning around the left leg. The last thing you want to do is lean back and try to help it into the air."
I knew there had to be more to it. "The usual tendency will be for the ball to go a little right off the downhill lie," he added. "So aim a little left."
After Heins floated several towering shots that landed softly in the middle of the green 130 yards away, I asked him for a single key. "Your club head should follow the slope," he answered, "And keep the club down through impact."
That was two keys, but I let him ride.
Dave Donelson, author of Heart of Diamonds
a
romantic thriller
about
blood diamonds
in the
Congo