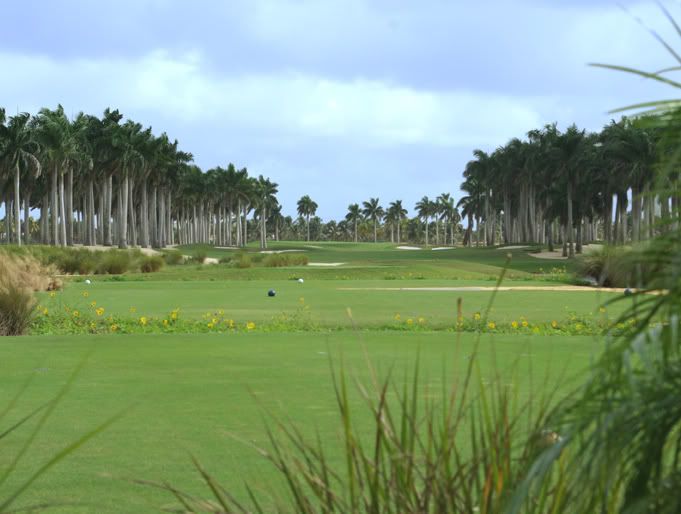 The Great White Course at Doral - First Tee
Doral's Blue Monster, home of the WGC CA Championship, is one the great classic Florida courses you can play. But if you go, make sure you stay an extra day to check out the other monster at the resort, the Great White Course.
The Great White Course is arguably the Blue Monster's equal although Greg Norman's design makes it a totally different golf experience in several ways. At 6,679 yards, the Great White is about the same length as the Blue Monster although fewer of the greens are elevated, so it doesn't play quite as long. You need a wide variety of approach shots, though—from high soft short irons over trouble to laser-guided long irons or hybrids, so it's more entertaining that it's more famous sibling in many ways.
The course had a reputation for undue toughness for a few years, but the Great White was made much more playable with a major remodeling in 2006, according to Golf General Manger Darrin Helfrick. They took out 125 pot bunkers and re-contoured the crowned green on the 6th hole—although it's still harder to hit than a flea's butt with a BB gun at 149 yards.
The course also technically has no rough, but don't let that fool you. The short grass runs right into fairway-defining waste areas dotted with saw grass, trees, and other ball-blocking vegetation. And, because there's generally no long grass to stop it, an errant shot may run a long, long way on the hard coquina sand in the waste areas. They also slip quite easily into bunkers and water hazards, so you have to plan not just the direction but the distance of your shots with care.
The Great White offers an excellent mix of demanding holes. There's the 577-yard 14th that's a four-shot hole for most golfers when it plays into the wind, the 161-yard island green 8th hole, and the 374-yard 10th, where a wide but shallow green forces you to lob a high, soft approach exactly the perfect distance—three steep bunkers guard the front while water awaits just off the back edge. The first and last holes are reachable par fives, too, depending on the wind, which makes for some interesting matches.

Dave Donelson, author of Heart of Diamonds a romantic thriller about blood diamonds in the Congo